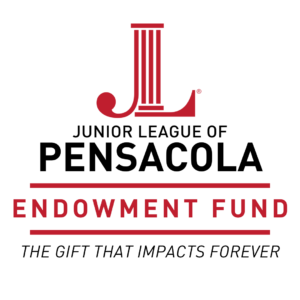 THE JUNIOR LEAGUE OF PENSACOLA ENDOWMENT FUND
We have been blessed with the foresight of many of our past leaders to have an Endowment Fund. The purpose of the endowment fund is to provide secure and permanent means of financial support consistent with the purposes of the League. The endowment fund will enable the Junior League of Pensacola to remain strong in times of financial uncertainty as well as expand and initiate exciting new opportunities in our community.
The Endowment Fund is comprised of extremely generous donations from our sustainer & active Junior League of Pensacola members as well as philanthropists throughout our beautiful community.  We are very thankful for all of your generous donations!
HOW YOU CAN DONATE TO THE ENDOWMENT FUND

A Gift of Cash:  A cash donation may be deductible from your income taxes.
Gifts to the Junior League of Pensacola Endowment fund can be made in many ways:
A Gift of Securities:  

An alternative to cash, a gift of securities, may allow you to avoid capital gains taxes on appreciated assets and take a tax deduction.

A Matching Gift from your Employer:  

Many employers offer matching gifts to charitable donations. Check with your employer for their plan detail and you may be able to double your impact.

A Gift in Memory:  

A gift in memory of a loved one is a lasting way to pay tribute. Both the family and donor will receive acknowledgment of this thoughtful gift.

Restricted & Unrestricted gifts
To inquire about making a pledge, please call 850-433-4421 or send an e-mail to giving@juniorleagueofpensacola.org. All gifts are deeply appreciated!
We need to continue to grow our Endowment Fund to fulfill our commitment to the Junior League of Pensacola and to maintain our level of service to the community. The Junior League Pensacola has established itself among the preeminent volunteer organizations in our community and we need your continued support to maintain that standard. Please keep the Junior League of Pensacola Endowment Fund in mind as you and your families give, celebrate birthdays, recognize milestones and achievements, and honor or remember loved ones. Gifts to the Endowment are invested to grow the Fund and provide long-term financial security and protect the viability of the Junior League of Pensacola.
Every dollar contributed will continue to make a difference for the Junior League of Pensacola and our community.
To donate by check, please make your check payable to the "Junior League of Pensacola" and write "Endowment Fund" in the memo line. Your tax-deductible gift can be mailed to:
Junior League of Pensacola
2016 W. Garden St
Pensacola, FL 32502