ALL BABIES SHOULD HAVE ACCESS TO CLEAN DIAPERS.
The Junior League of Pensacola serves to combat diaper need within Escambia and Santa Rosa counties by supplying diapers to programs in our community. Diaper need is the lack of a sufficient supply of diapers to keep a baby clean, dry, and healthy. A Diaper Bank collects, stores, and distributes free diapers and wipes to organizations and families that are in need.
Supporting the Diaper Bank enables our volunteers to purchase, store, wrap, transport and distribute diapers and wipes to those in need in Escambia and Santa Rosa counties.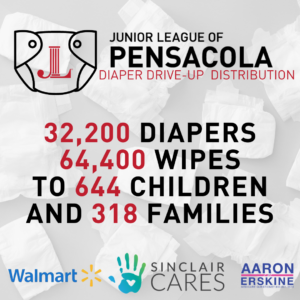 December 3rd, we hosted our second Diaper Drive-Up Distribution at our office and gave away 32,200 diapers and 64,400 wipes to 644 children and 318 families and had 253 vehicles drive through our line.
We truly can't
#EndDiaperNeed
alone. We are so thankful for our supportive community. Thank you to all the donors during National Diaper Need Awareness Week!
Thank you our sponsors-
Walmart
, Sinclair Cares Summer Drive with
The National Diaper Bank Network
, and Aaron Erskine! Thank you to
Gulf Coast Kid's House
for the diaper donation!
We would also like to thank A+ Mini Storage of Downtown Pensacola for the use of their box truck, Two Men and a Truck for moving boxes,
Embellish Boutique
for feeding our volunteers, Buffalo Rock for hydrating our volunteers, and all our members and friends who came out to distribute diapers!
A special thank you to
Zeta Phi Beta Sorority, Incorporated – Gamma Tau Zeta Chapter
for tabling today.
Thank you to
Pensacola Catholic High School
and
Navy Federal Credit Union
(and
United Way of West Florida
who helped us connect to Navy Federal during
#DayofCaring
) for their volunteer shifts this fall to help prepare for this day!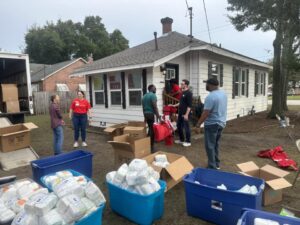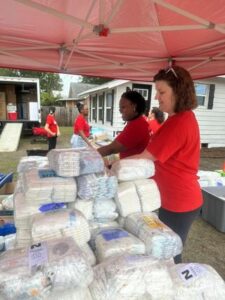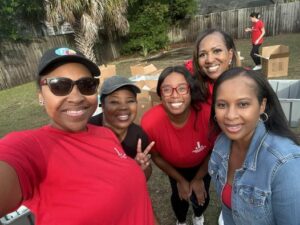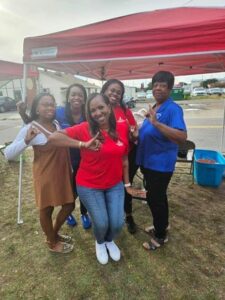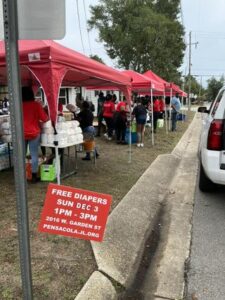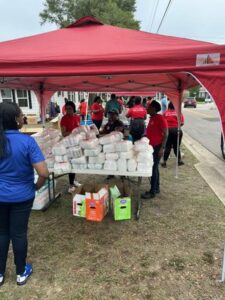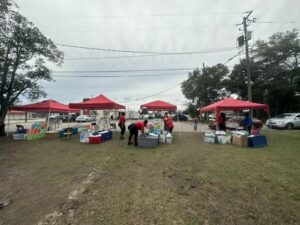 Special Thank You to Fox 10 for having our Diaper Bank Chair, Melissa Holzgrefe on December 1st to discuss this weekend's Diaper Drive-Thru event.
Fox 10 Interview with Melissa Holzgrefe, Diaper Bank Chair
National Diaper Need Awareness was September 18-24, 2023.  Thank you to the following businesses that served as drop-off locations for diapers and wipes.
ARTESANA BABY & CHILD, 248 W Garden Street

CASKS AND FLIGHTS, 121 S Palafox Street

EMBELLISH BOUTIQUE, 7 E Gregory Street

PURE BARRE, 270 N Palafox Street

JEN'S DESIGNER DEALS, 360 Gulf Breeze Parkway

GIBSON & HEATH FAMILY DENTISTRY, 13 Center Road

A SPECIAL PLACE, 1900 SR 87, Suite H

WHEATON LAW FIRM, PLLC, 4513 Woodbine Road

CORNERSTONE CHRISTIAN CHURCH, 14047 Alabama Street

DE NOVO SALON, 3435 N 12th Avenue

OLIVE BRANCH PET HOSPITAL, 4220 N Davis Highway, Building A

JUBILEE CHURCH, 5910 N W Street

LIL' JOHN'S BIG & TALL, 5700 N Davis Highway

TAYLOR DENTAL, 6601 N Davis Highway, Suite 8

COMMUNITY BANK, 7150 N 9th Avenue

PERFECT POUR, 1449 W Nine Mile, Suite 7

EMERALD COAST MEDICAL GROUP, 2120 E Johnson Avenue, Suite 150

WILDE LAKE CHURCH, 2800 Wilde Lake Boulevard

ANYTIME FITNESS MILTON,6568 Caroline Street

FANNIE LOU'S ICE CREAM, 3101 E Cervantes Street
A special thank you to WEAR TV and Sinclair Cares for its Summer 2023 Diaper Drive. Through their national partnership with the National Diaper Bank Network, Junior League of Pensacola recieved $500 because of its drive efforts.
WEAR TV discusses the Sinclair Cares Diaper Drive with our President and Chair.
DIAPER NEED FACTS
According to the National Diaper Bank Network: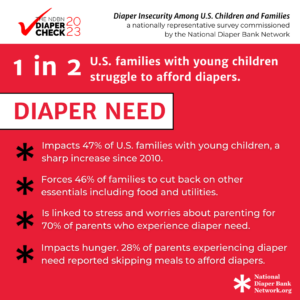 GET INVOLVED
As the only Diaper Insecurity initiative operating in our community, we need your help to fight diaper need.
Your gift will be used to purchase essential supplies for diaper drives, including diapers and wipes.
We accept packs of diapers and unopened wipes at our office. You can also shop our wishlist and have items shipped directly to us.
HOST A DRIVE
If your organization would like to collect diaper and wipes for Junior League of Pensacola, please reach out to us at diapers@juniorleagueofpensacola.org so we can set you up for success!
WRAP PARTY
Would you like some hands on experience? We would love to have a volunteer group support the Diaper Bank. Let us know if you are interested in helping prepare for an upcoming Diaper Drive event at diapers@juniorleagueofpensacola.org.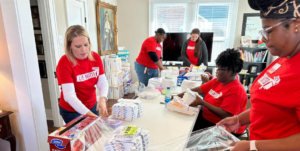 Check out our Sponsorship Packet here.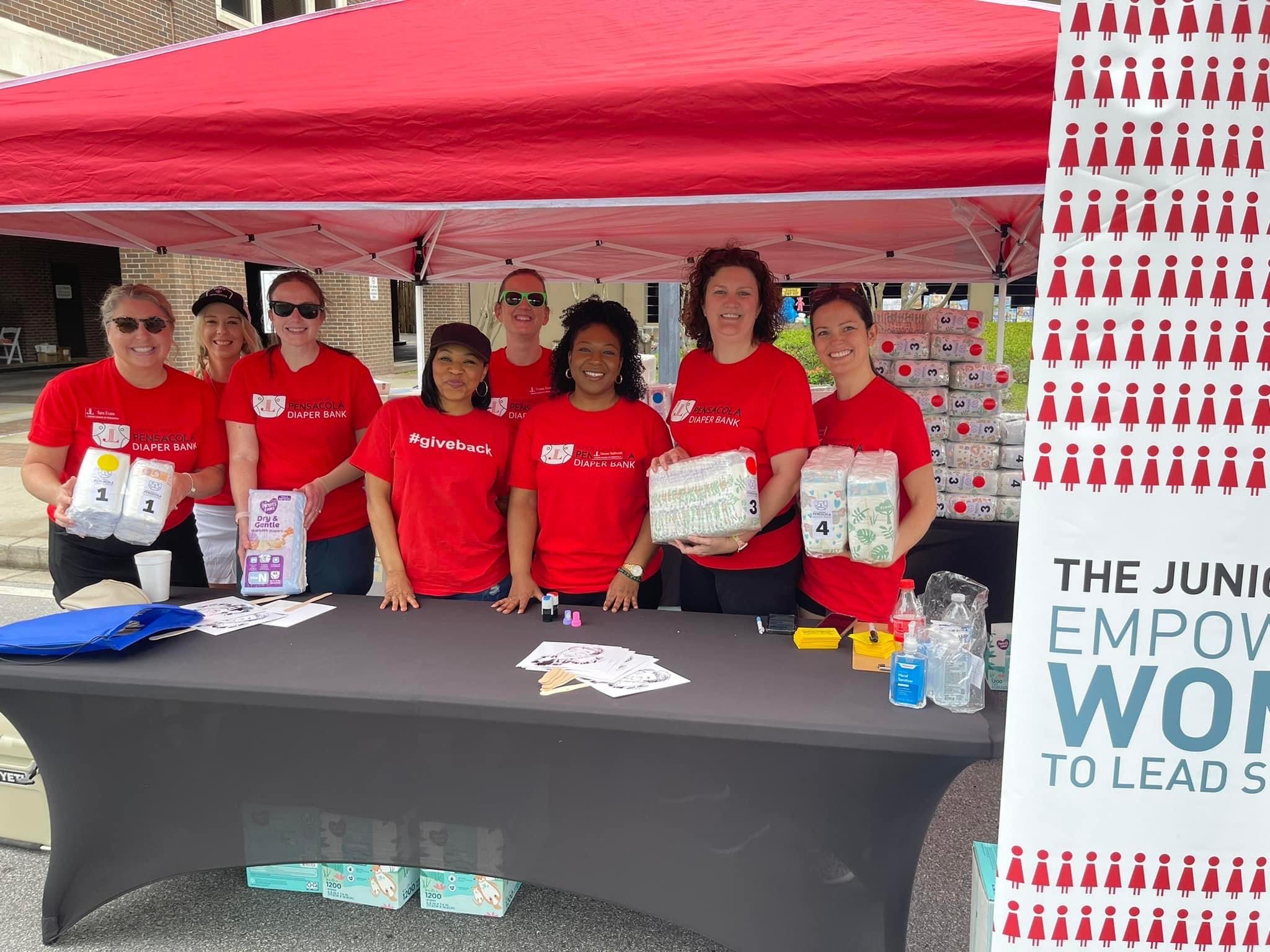 OUR HISTORY
2020: Collected and distributed 10,000 diapers to local agencies.
2021: Hosted a Diaper Drive Up where 458 families with 658 children were served through 31,700 diapers and 65,000 wipes.
2022: Became a certified member of the National Diaper Bank Network; Participated in the North Escambia County Baby Shower.
2023: Participated in the Fred Levin Way Fest alongside community agencies and distributed 50,000 diapers.

For more information how you can help, please email diapers@juniorleagueofpensacola.org.