Women's Empowerment Awards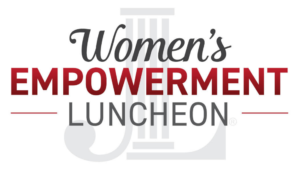 Mark your calendars for the Women's Empowerment Luncheon on March 8th, 2022 from 11am to 1pm at the Pensacola Country Club! 
Tickets on sale NOW for the 2022 Women's Empowerment Awards! Don't miss out on our special early bird pricing.
We are accepting nominations for the 2022 Women's Empowerment Awards! Nominations close January 25, 2022.
Award Descriptions and Nomination Form
Sponsorships are available for the 2022 Women's Empowerment Awards!
The Junior League of Pensacola Women's Empowerment Awards formally recognize and celebrate the outstanding contributions of women and young ladies in the Pensacola area. These awards honor exceptional women of all ages, of diverse cultures and roles, celebrating the power of individuals to spark change and improve their community and beyond. Whether your candidate is well known or an unsung heroine, we want you to tell us the inspirational stories of women whose extraordinary achievements empower others.
Email [email protected] with any questions.
Women's Empowerment Award Categories:
Woman in Business
Woman in Philanthropy
Woman of Service
Youth Woman in Leadership
2020 Women's Empowerment Award Winners:
Woman in Business: Jennifer Grove
Woman in Philanthropy: Shelley Reynolds
Woman in Service: Audrey Moore
Youth Woman in Leadership: Zenani Johnson
Mary Rane Hill Award: Cheryl Howard
2019 Women's Empowerment Award Winners:
Woman in Business: Amanda Floyd and Jennifer Allen McFarren
Woman in Philanthropy: Tia Watts Robbins
Woman in Service: Christina Watts Hawkins
Youth Woman in Leadership: Lauren Bonner
Mary Rane Hill Award: Robin Fleishman Zimmern
SPONSORSHIP INFORMATION:
A variety of levels of sponsorship opportunities, including in-kind sponsorships, are available. To inquire about becoming a sponsor, email [email protected]